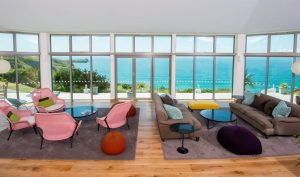 Enjoy our Cornish wine from this spectacular, contemporary, seaside retreat perched on the cliffs of the Lizard Peninsula.
From February this year all Polgoon wines, ciders and juices will feature on the drinks menu at the Polurrian Bay Hotel.
Built in 1890, this luxury, cliffside hotel started life as a Victorian railway hotel and has been welcoming  visitors to Cornwall and the Lizard Peninsula for over a hundred years.
In 1909 a fire devastated the original hotel, leaving it in ruins. The only parts that now remain are the terraces and steps near the tennis courts. Three years later, a new hotel – the one you see today – was opened on the site.
With its incredible sea views and fantastic location – close to Mullion, Porthleven and Kynance Cove – the Polurrian has always attracted distinguished guests. Figures such as Guglielmo Marconi who, in 1901, sent the first ever transatlantic radio messages from nearby Poldhu Cove. In 1953 Clark Gable and Gene Tierney stayed here whilst filming Never Let Me Go. During the Second World War, the hotel became an officers' mess for nearby RAF Predannack, and Winston Churchill was also known to stay here.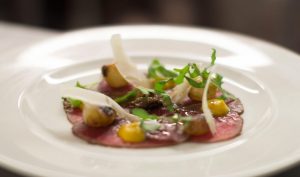 The kitchen at Polurrian is supplied with herbs grown in the garden, while other ingredients are carefully sourced from local growers, butchers and artisan suppliers.
The hotel provides a space for casual dining in the Vista Lounge and guests buying a bottle of wine during their stay will be offered a free vineyard tour and tasting at Polgoon. We'll also be working with the food and drinks team to create bespoke wine and dine events throughout 2019, so watch this space…
We hope that visitors to this part of Cornwall get to enjoy a glass or two of our wine at this wonderful hotel.  Sip it on the terrace, in the sunshine, whilst enjoying the stunning views.  (Top tip: if you look out to the far west, you can just about see where the grapes were grown at Polgoon vineyard, perched on the hills above Penzance!)