Over May bank holiday weekend, we embraced the staycation and took out two e-bikes from EBike Cornwall.
I'm not the best on a bike but Steve in the shop was super helpful and the bikes are so easy to ride. He explained the gears and gave little tips on to get the best from the bike depending on steepness of the road and set up the sat nav.
There are some amazing routes around our peninsula that e-bikes have set up ready for you to follow depending on what you want to take in and I was amazed they included some lanes that I hadn't been a long before.
There's a map on the wall in their shop so you can choose where you would like to go.
We set off along the seafront to Newlyn, what an amazing start for anyone visiting Penzance. The sea front make over was a long time coming but really does look fabulous now it's finished.
We headed towards Newlyn and before we knew it, me and Georgie were in Mousehole. The bikes take so little effort to ride and are amazingly comfortable. We didn't need to stop but couldn't help taking a cake break at Holefoods deli before we whizzed on to Lamorna.
I've walked the hill that takes you out of Mousehole several times, I never thought I could have cycled up it! It felt like I was sat in an armchair with someone pushing me up the hill.
Once out of Mousehole the lanes were quiet, we cycled effortlessly chatting as we went about how much more you see when on a bike rather than a car.
Our next stop was the Merry maidens, standing stones on the way to Lamorna. West Penwith has over 700 ancient Neolithic sites, all a little magical with their own stories and legends. Merry Maidens is just over hedge with an area to pull safely off the lane so easy to walk up to and take a look.
Exploring by bike made us feel a lot more part of our surroundings, by the sea you could smell the seaweed and salt in the air and as we ventured down the country lanes to Lamorna the air filled with sweet gorse flower and freshly cut hay.
Our sat nav system set up for us by Steve in the shop took us on an amazing 3 hour route with plenty of options for long or short breaks along the way.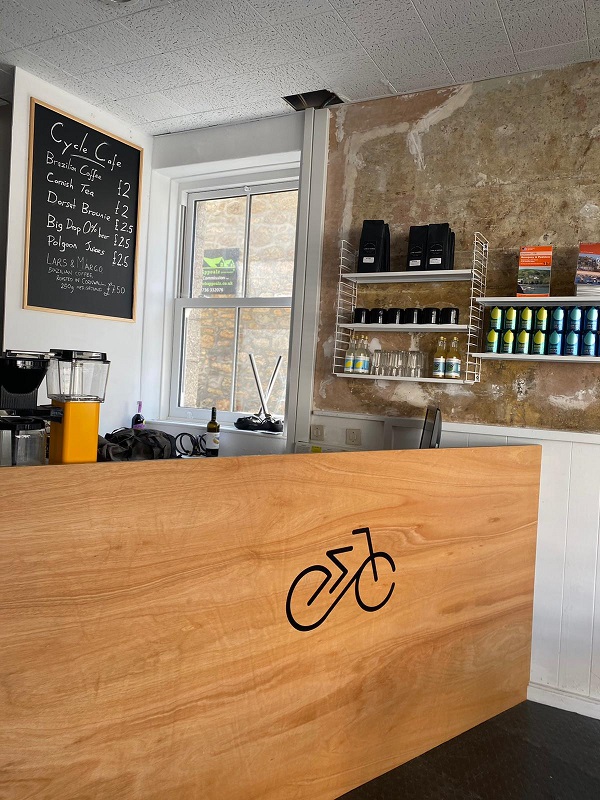 This was my first venture out on a e-bike but will definitely not be the last. We're keen to explore other routes and enjoy the unique and special place where we are lucky enough to live.
If you are thinking you might like to have a go then without doubt you should get in touch, you won't regret it.
To book an e-bike speak to Steve or pop into the shop at the top of Morrab Road and have a Polgoon juice or a coffee, take a look at the routes on the wall map choose where you'd like to go and book your adventure!
Telephone: 07394 981083
Email: team@ebikecornwall.com